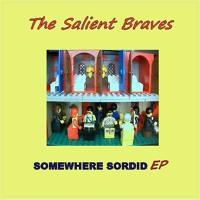 Usually what grabs me first is the music. Less often, the lyrics demand my attention. But with "Somewhere Sordid", the title track from the EP by
The Salient Braves
, the entire package hit me hard -- in a good way. The track begins with big, martial beats from the rhythm section underneath a buzzing punk guitar. And then the lyrics - "Why don't you tell me another lie, like the one you did last night? / you know I want it / and do you know that contagious disease you brought back from your visit to Greece? / I think I caught it" - sung like the punk/folk rock anthem it most certainly is. And while the theme is a complicated, and not entirely healthy, relationship, the video a friend of the band made utilizes the song to wield a club against the Tories (see below).
The entire EP is comprised of witty lyrics touching on love (or obsession), mental illness and religion (and Waterloo sunsets), that are delivered with melody and an edge. And when songwriter/frontman Matt Bailey borrows a song, he has the good taste to borrow Ray Davies' "Waterloo Sunset". Appropriately for a lyric-driven record, the vocals are high in the mix. There aren't enough guitar pop records that offer stories rather than just atmosphere, so treasure this one.
In addition to Matt Bailey,
The Salient Braves
are Martin Roberts, JC Toller, Paul Caton, April Farthing, and Emma Johnson. The band is from Barnsley, UK.
Somewhere Sordid
is out on October 14 via Dufflecoat Records.
Facebook
Bandcamp
Twitter
Dufflecoat Records