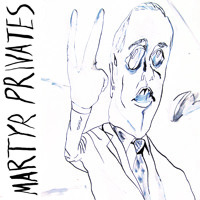 Martyr Privates
' new self-titled debut album is not the shy, retiring type. Make no mistake, it isn't a friendly puppy dog, either. But this records growls, stomps and swaggers through your cranium like it owns the place. And fortunately, the invasion is likely to leave you happy and satisfied. It is the kind of psychedelic rock that dwells in noise, chunky drone and expertly curated grime -- more The 13th Floor Elevators filtered through '80s-'90s alt rock than the acoustic side of Jefferson Airplane. You know, hammers instead of scalpels and all that. But from the opening chug of album opener "Someone's Head", I was impressed with this band's clear-eyed and unfussy vision of rock and roll. The sound is full, but there is nothing extraneous. There also is nothing to tie you to current trends in music. No synths, samples, or guests, and certainly nothing you'll hear on mainstream radio or by a contestant in a blind audition for the voice. And that is one more thing to treasure about
Martyr Privates
-- it is our album and we don't have to share it with pre-teens and Madison Avenue ad agencies.
Martyr Privates
is a Brisbane trio consisting of Ashleigh Shipton (bass), ex-Slug Guts member Cameron Hawes (vocals and guitar), and Sam Dixon (drums).
Martyr Privates
is available now in digital and vinyl formats from Bedroom Suck in Australia and New Zealand, and Fire Records elsewhere. And as an aside, I'll observe that the partnership between Bedroom Suck and Fire Records is an incredible boon to indie music fans. Bedroom Suck is one of the finer little labels around, with their finger on the pulse of vital underground Australian music. Fire Records comes to the table with a distribution and support reach that labels the size of Bedroom Suck cannot generate, couples with Fire's proven excellent taste in music.
Facebook
Soundcloud
Twitter
Fire Records
Bedroom Suck Records