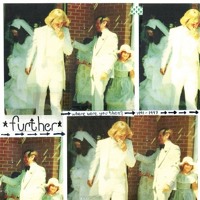 There was plenty of good music in the '90s, but there was a bit too much Britney Spears, Hanson, Red Hot Chili Peppers, boy bands, rappers who can't distinguish themselves from the pack, and U2 still in existence, so it doesn't rate as my favorite decade. However, thanks to the good taste of the folks at small UK label Bad Paintings we are reminded of the gems we might miss if we dismiss the '90s too quickly. Exhibit A is
Where Were You Then
, a compilation of the output of Southern California's
Further
. Consisting of 13 tracks representing, in chronological order, the best of their singles, it demonstrates why this band was selected to play with the likes of Sebadoh, Pavement, Beck, and Flaming Lips.
Further
was founded by brothers Darren and Brent Rademaker, Kevin Fitzgerald, and Josh Schwartz. They released records on several labels, but eschewed an opportunity to sign a major label contract. Listening to the songs on
Where Were You Then
, I'm struck by the the atmosphere of freedom, of we do what we want to do, that infuses the tracks. The fidelity is low, the garage rock quotient is high. This is the joy of shredding -- loud guitars, pounding drums, driving bass, and pop song melody and vocals snugly nestled inside the sonic storm.
The Rademaker brothers went on to form Beachwood Sparks and The Tyde, both of which are probably are better known. But the
Further
chapter should be known and celebrated. These are great songs, and represent the best of harder edged garage rock. Thank you, Bad Paintings!
Pre-Order link for Physical
Pre-Order link of digital
Soundcloud for the album