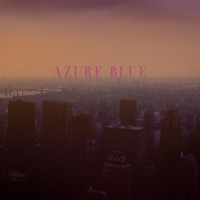 At its best, synth pop is emotionally satisfying music. It lifts the listener's spirits, extends horizons and makes the world seem a bit brighter. And
Beyond the Dreams There's Infinite Doubt
from
Azure Blue
is synth pop at its best. Vintage synths and driving drum machines form a platform for Tobias Isaksson's soft vocals. The synths are layered tastefully for maximum emotional impact, providing the background and emphasizing the melody. And at the end of the day, the success of synth pop comes down to the melodies, and on that score
Beyond the Dreams There's Infinite Doubt
excels from start to finish. There is a nostalgia-inducing similarity to the Pet Shop Boys and New Order, although in Isaksson's hands the result feels more atmospheric and romantic.
This is one of those albums that present a challenge when trying to pick representative tracks. I picked out five candidates, and played them over and over, reluctant to reject any of them. I finally settled on the following three: The more restrained "Willow and Pines"; the captivating and sparkling "Sunset"; and standout track "The Road I Know". If you only have time for one, I suggest "The Road I Know".
Azure Blue
is the solo project of Sweden's Tobias Isaksson. This is his sophomore album, following 2012's acclaimed
Rule of Thirds
. Isaksson's previous projects include Irene and Laurel Music, as well as stints as a popular DJ.
Beyond the Dreams There's Infinite Doubt
is out now on Matinee Recordings in the US and on the internet. In Europe, the album is out via Hybris/Fika Recordings.
Website
Facebook
Soundcloud
Matinee Recordings
Matinee Recordings on Facebook