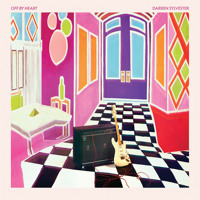 Stylish '80s pop seems to be the "new black" for bands. But anyone tempted to dismiss the result as easy mimicry should remember that for every soaring top of the charts single by a new wave band, there was .... well ... the rest of that band's output. It is that knowledge (and that memory, if the truth be told, because even though the blog is young, we aren't) that causes us to appreciate the intelligent, high quality
Off By Hear
t from
Darren Sylvester
. The album is melodic, dramatic, well-written, hook-filled, bright, smooth, and undeniably sensuous. But it also boasts big, attention-grabbing drums and pronounced, thick bass lines. And it reflects the tasteful attention to detail that one would expect from a musician who also is an artist, sculptor, videographer, and photographer.
Melbourne resident Sylvester played all of the instruments on
Off By Heart
, and is the primary vocalist. Back up vocals are provided by Jojo Petrina and Biddy Connor from the group Magic Silver White). Sylvester doesn't hide his influences. The templates provided by Avalon-era Roxy Music and some of David Bowie's late '70s work are honored. But Sylvester makes it all his own with his lyrical contributions. And the end result is a delightful evocation of a style, rather than a mere replication. This album exists to make your late nights better. Consider it a public service from the kind Mr. Sylvester.
Off By Heart
is out now via Chapter Music.
Facebook
Twitter
Bandcamp for Off By Heart
Bandcamp (Darren's debut album)
Chapter Music