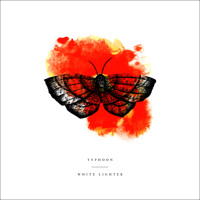 The songs on
White Lighter
by Portland, Oregon's
Typhoon
are dramatic, dynamic, multifaceted and almost impossibly affecting. It is folk and pop rock on a grand scale, with strings, distorted guitars, brass, large choruses and a lead vocalist with the kind of voice that would sound emotionally charged reciting a grocery list. There are shifts in volume, texture, tempo and emotion. Sure, you've heard music with similar elements from Beirut, Fanfarlo, Yeasayer, and Neutral Milk Hotel, among others. But with a cast of up to 14 and well crafted introspective and existentially themed songs by frontman Kyle Morton, I would suggest that you haven't heard an entire album of this style of pop that is this complete and compelling. And "Artificial Light" certainly is among the best songs I'll hear this year.
Morton's world view and songwriting undoubtedly has been influenced by his brush with death as a child, when Lyme disease caused multiple organ failure and his father donated a kidney to young Kyle to save his life. The songs seem to reflect his efforts to order the world, or take meaning and acceptance from the world as it comes to him. He and his colleagues recorded the album over six weeks while living together on a farm in rural Oregon.
Here is a live version of album track "Morton's Fork" --
White Lighter
is out now on Roll Call Records. It is highly recommended.
Website
Facebook
Twitter
Roll Call Records