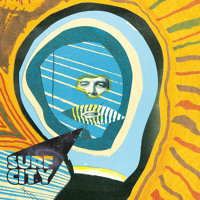 In my opinion
Surf City
isn't really a surf band at this point, but you shouldn't hold that against them. Because what they do play on
We Knew It Was Not Going To Be Like This
, their new LP, is an exuberant space rock/psychedelic rock version of the guitar pop of The Clean and The Bats, with some The Jesus and Mary Chain noise pop traces. It is all very chill, and boasts good pop sensibilities. For long-time fans of this New Zealand band, the good news is that the songwriting continues to sharpen (especially lyrically), the polish in the studio is more evident, but the enthusiasm and attitude remain. And there are clear examples of the
Surf City
's willingness to push themselves stylistically.
The album begins with the chugging, anthemic "Its A Common Life". If you like this song, and I most certainly do, you will like this album.
The band unveils a snaky rhythm for "I Had The Starring Role". While retaining the band's love of a good chorus, the track reveals an ability to strip back the fuzz and tackle more complex pop arrangements. "Songs From A Short-Lived TV Series" and "NYC" seem build on a more motornik foundation with "NYC" in particular giving the bass player a chance to shine while the band explores some Pavement devotion.
Space rock takes stage with "Claims of a Galactic Medium", before the band provides their nearest renditions of the famous New Zealand sound with the rousing "No Place to Go" and the sweet "I Want You". Neither were written by a man named Kilgour or Scott, but you couldn't be sure unless you were told.
The penultimate track is the intriguing and experimental "Oceanic Graphs of the Wilderness", which opens with nearly two minutes of surging instrumental before distorted vocals drop in. It is an interesting track on its own, but it also promises new explorations for the band's future work. The album closer, "What Gets Me By", is built on a rolling bassline, and features some dub effects and echo vocals. It isn't quite reggae, but it is very, very good in my opinion.
Surf City
are Davin Stoddard, Jamie Kennedy and Logan Collins, and they are from Auckland.
We Knew It Was Not Going To Be Like This
is
Surf City
's third record. It was written and recorded in various spots around the world. Their debut EP was released in 2008, and this album and the preceding
Kudos
are released by Fire Records.
Facebook
Tumblr
Fire Records