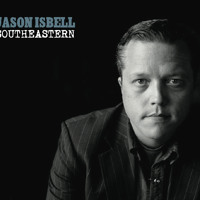 The strong statement made by Jason Isbell on
Southeastern
starts even before you open the CD. The black and white cover photo is a close-up of Isbell's face looking straight into the camera. He appears serious, clear eyed and present, as if to say: "Here I am, fully prepared to give you my best and be held accountable for my past, present and future."
And the title
Southeastern
- after going through alcohol rehab, traveling the globe performing and surviving quite a difficult life journey - reflects the homestead and foundation of the 34 year old singer-songwriter.
Southeastern
is self-released, recorded in Nashville where Isbell resides, produced extremely well by Nashvillian Dave Cobb and in all regards remaining honest to Isbell's Alabama roots.
Southeastern
reflects a man both humble and supremely confident is his ability to make music. And this renewed focus makes
Southeastern
by far the best of Isbell's career.
The CD begins with "Cover Me Up" that has a sound as stark and direct as the gaze of the cover photo. Isbell has never sung better and the bittersweet acoustic music is striking and right on.
Next up is "Stockholm", a plea to go home and find love and redemption:
That's Kim Richey on background vocals.
The highlight of highlights here is "Traveling Alone":
"Traveling Alone" has been haunting for me for weeks since I first heard it. So much pain, beauty and truth here. Hitting bottom and getting up and crawling back. I love the overall sound, especially the fiddle (by Amanda Shires whom Isbell married earlier this year). It's a truly perfect country rock song that's got it all - great chorus, terrific bridge, and memorable lines like "So high, the street girls wouldn't take my pay. She said come see me on a better day, and she just danced away."
I am similarly stuck on "Flying Over Water", a rock song which hooks you with the opening line: "From the sky we look so organized and brave." More redemption and searching for connection and love.
It's harder Southern rock you want? You'll love "Super 8" featuring WYMA favorite Will Johnson (Centro-matic, etc.):
"Super 8" has the strong but unadorned, direct rock'n'roll sound I kept hoping to hear from Jason & the Scorchers, the prototype Southern alternative rock band whose producers and record companies kept taking them down suburban metal rabbit holes in the mid to late 1980's, it seeming like somehow none of them had the good sense that Isbell and Cobb show to just follow the The Band's blueprint. Isbell wears his Southern literature and Southern alternative rock roots on his sleeve, but he takes the genre to heights it has rarely seen.
And on it goes - all 12 songs here are remarkably good. Isbell's 3 prior records all had some fine songs that realized on the promise shown when Isbell burst on the scene contributing "Outfit" and the title track to the Drive-By Truckers' Decoration Day in 2003. But Southeastern is a big step up for him - Isbell puts it all out there and makes a bold, career defining record that places him firmly within the company of his most talented peers like Steve Earle, Patterson Hood and Ryan Adams. Isbell is a careful writer with a great eye for detail and a Springsteen-esque knack for finding the way to deliver the right line at the right time to say a lot in few words.
And while this record certainly deals with Isbell previous alcohol demons, it is not some self-absorbed 12 step exercise. To the contrary, the themes of the difficulties of life, mistakes we make, redemption and love are told so well that they become universal and far more than any one man's journey.
Southeastern will easily make my top 10 list for 2013.
Here's an excellent feature story from the
New York Times
on Isbell and the background to
Southeastern
:
Jason Isbell Unloaded