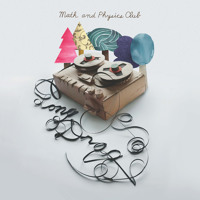 Math and Physics Club
is a Seattle band I've been able to watch grow up (in an artistic sense). I bought their debut EP in about 2005, and have happily enjoyed all of their subsequent releases. Today, Matinee Recording releases the two-track
Long Drag 7"
, which is the first record from the band since 2010.
Math and Physics Club
songs have, in the past, tended to be twee, nerdy, romantic, humorous and self-deprecatory, as well as well written and boasting excellent melodies. Nothing good from the past has been lost for
Long Drag
, but the title track presents an additional dimension -- a narrator who is angry and is willing to tell off his former lover. The song is fast-paced, energetic. Accompanied by staccato percussion and hand claps, he points out that he was holding up his side the relationship and she is the one who is failing to keep her end of the bargain. It is a great pop song in every respect, but in particular possesses that killer refrain that makes the song memorable -- and reminds us of the power of music: "My arms are shaking, I feel so naked. It's my heart that's breaking in your hand. But the song that's playing is my all-time favorite, and it just might save me in the end."
The B-side is "Across the Paper", a lovely twee song with clever lyrics sung wistfully to the accompaniment of ukuleles. There is a bottom line here, and it is that this is one of the better 7" records you'll have a chance to buy this year. And it is a great example of why singles are a wonderful way to experience new music.
The 7" was recorded at Dub Narcotic studios in Olympia, Washington, and precedes a new LP from the band.
Math and Physics Club
are Charles Bert, Ethan Jones (who also is in Eux Autres), and James Werle.
Math and Physics Club Website
Facebook
Matinee Recordings
Matinee Recordings Link for record