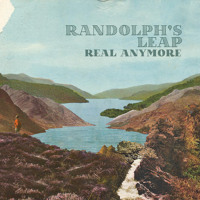 Real Anymore
presents seven musically and thematically diverse tracks from the prolific Glasgow artists of
Randolph's Leap
. Adam Ross' songs tackle love, humor, heartache, darkness, technology and the nature of being "twee", as well as the narrator's imagined stint as a telephone psychic. The style is a classically Scottish folk/pop/indie rock amalgamation that, in the right hands, provides the listeners with a generous helping of textures and modes of expression. And with Ross' songwriting and vocals, and the performing contributions of eight outstanding musicians,
Randolph's Leap
has the "right hands".
The arrangements range from bright and poppy to soft and melancholy, but are consistently melodic. Opening track, "Conversation", begins proceedings on a soft note, featuring Adam's vocals and an acoustic guitar. Then the band flexes its full instrumental muscle on the rousing title track --
And the video --
"Psychic" showcases Ross' wit as he discusses his launch of the remote psychic business after being turned down for a bank loan: "I don't believe in my psychic powers, but its hard to get by on six pounds an hour .... I'd rest on my laurels if I only had morals".
For me,
Real Anymore
displays a dedication to the craft of songwriting and the art of entertainment. And those are very good reasons to pay attention to it.
Randolf's Leap
are Adam Ross (guitar/vocals/songwriting), Gareth Robert Perrie (keyboards), Iain Taylor (drums), Vicki Cole (bass), Andrew MacLellan (cello), Heather Thikey (violin), Fraser Gibson (Trombone), and Ali Hendry (Trumpet).
Real Anymore
is out now on Olive Grove Records as a CD or digital download.
Facebook
Website
Bandcamp
Twitter
Olive Grove Records