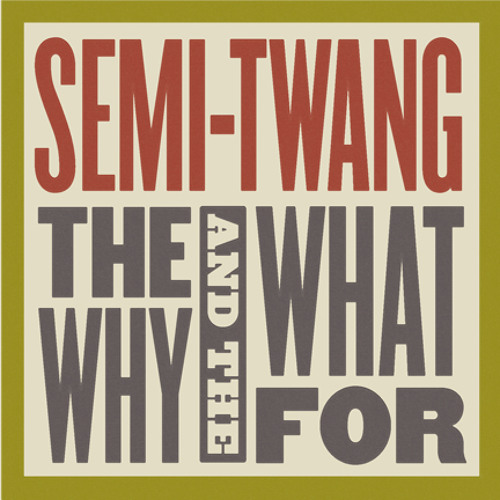 Semi-Twang
is a veteran country-rock outfit from Milwaukee by way of Nashville (although their music will remind you more of other Southern rock meccas like Memphis, New Orleans and Muscle Shoals). This week, they've released their third album:
The Why And The What For
.
Think Delbert McClinton, think of Levon Helms' Arkansas roots, think of whatever blues-tinged Southern country rockers you like, and you will find these guys fit right into that stable. The band released its first album in 1988, and after sales trailed their critical acclaim, lead vocalist and songwriter John Sieger lit out for Nashville, TN. Guitarists Mike Hoffmann and Jason Klagstad, bassist Mike Sieger, and multi-instrumentalist Bob Jennings and drummer Bob Schneider. While Sieger was plying his trade in Nashville, the other band members stayed busy with various projects and session work until the band reformed in 2009 - and they've been working together on their 2011 release
Wages Of Sin
, and then on this record.
It's got lots of blazing guitar, Sieger's soulful vocals and the spirit of every Southern rock city from Memphis to New Orleans, not to mention the spirits of folks like Chuck Berry and Ronnie Hawkins.
Here's "The Wrong Side of the Tracks", a very apt example of what they're up to, Chuck Berry/Keith Richard guitar licks and all:
To celebrate the release this week, they're offering a free download of album track "Making Everybody Cry" - click
here
to get it.