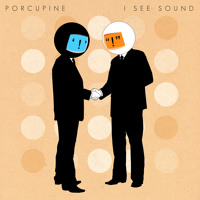 I grew up in the Midwest, and sometimes nothing fits the mood like Midwest-style rock and roll. What, exactly, does that mean? It means rock with chunky chords, muscular rhythms and lead guitar runs that offer no apologies, played on a template of bar band rock and roll and blues rock that makes anyone from the '70s think the world hasn't totally passed them by. And it isn't just throwback nostalgia -- you heard it in Swervedriver and Queens of the Stone Age as well. I've found that when people refer to "rock", this is exactly what they mean.
But who does that anymore? Well, for one, La Crosse, Wisconsin's
Porcupine
. John and I have both featured this band several times before. They are back again with a limited vinyl/digital Record Store Day release via Riot House Records. It consists of six tracks of the music that satisfies your urge for full-blooded rock, with hints of British Invasion and psychedelia. This trio writes good songs any executes them to perfection. Casey Virock (guitar, vocals), Dave Reinders (bass, vocals), and Ian Prince (drums) don't aim for what is fashionable, they aim for what they know they like. And they have been building a fan base doing just that, so there seem to be a lot of music fans that like it as well. If you want rock on Record Store Day, think
Porcupine
.
Here is the link for
digital pre-order
, and here is the link for
vinyl pre-order
.
Website
Facebook
Twitter
Riot House Records