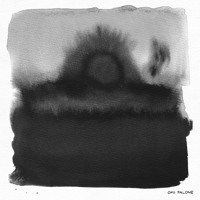 Well, the self-titled debut LP from
Omi Palone
is an absolutely wonderful surprise, akin to discovering a lost set of tapes from an '80s recording session on New Zealand's south island with added hints of early R.E.M. A baritone lead vocal with others singing in unison, a distinctive bass line and upfront drums adding a steely backbone for the twanging, jangling guitars and robust chords. The music is melodic, enveloping. The lyrics are pointed, intimate, concise, and the writer shows no fear of dark places or difficult themes. The vibe is relaxed and confident, if a bit moody, but the band is tight. There is a punk energy and pace underneath the jangling guitars.
There is no filler in this eight song sets, and I'd be hard pressed to find a favorite. While I was listening to the album and writing this post I hit the repeat button several times for "Void", which sounds like it came from The Bats' Daddy's Highway and the energetic closer "Sleepwalk". But I'd be happy to have any of the songs showcase the record. This may be the coolest little album you'll hear this spring.
Omi Palone
is Philip, Simon, Liam and Jack, and they are based in London. Prior to this album they released a cassette and two split 7" records.
Omi Palone
is a joint release by Faux Discx and Negative Space, and is available now. There are limited vinyl LPs and digital downloads.
Facebook
Website
Bandcamp
Soundcloud
Twitter
Faux Discx
Negative Space Records