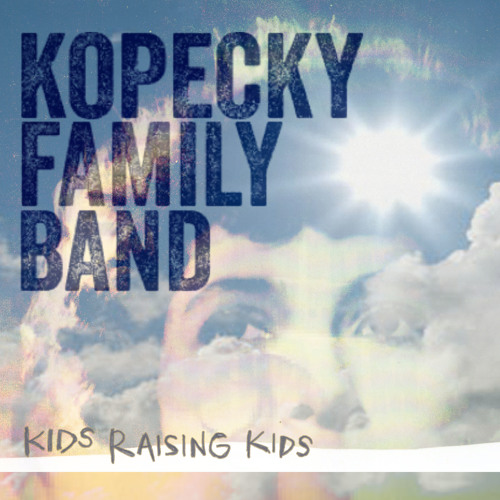 The
Kopecky Family Band
is a Nashville group formed on the campus of Belmont University. Not a biological family, but a family inasmuch as a group of musicians sharing a purpose and a plan must certainly have that feel... On Kids Raising Kids, they're playing soaring and very catchy pop/rock. The band's namesake is lead female vocalist Kelsey Kopecky, but the vocals are also carried by Gabe Simon, who takes the lead on the absolutely charming "ELLA" - I'd say they split them fairly evenly, and when they share them, the harmonies are wonderful. The origin of the band was Kopecky and Simon's meeting in college, but they've grown to six members, including Steven Holmes on lead guitar, David Krohn on drums, Markus Midkiff on cello, and Corey Oxendine on bass.
We featured Kopecky Family Band's video for "Heartbeat" recently (WYMA post
here
)... but it's a really good song and here's a live performance on Music City Roots, a live show that airs every Wednesday out west of Nashville:
In addition to the vocal harmonies, I like the rhythm section - staccato here, right on the beat there - and the guitars, which have kind of a surfy touch.
Here's the video for "Hope":
This is another one with a sort of skittering rhythm and some terrific guitars - and again, the vocal harmonies are the stars of the show. Throughout the album, they vary the tempos and instrumentation - to the point that it's not an easy album to "pin down". There are places in which it absolutely rocks and places where it's slow and achingly pretty - sometimes in the same track (check out "Angry Eyes").
The album was actually released in the fall of 2012, but has been given a wider airing as of last Tuesday (Apr. 2) by ATO Records, and I'd say they are onto something... and that the band's future is definitely something to be excited about. See them live:
APR. 18 CLARKSVILLE, TN – RIVERS & SPIRES FESTIVAL
APR. 27 OXFORD, MS – DOUBLE DECKER FESTIVAL
MAY 8 WASHINGTON, DC – BLACK CAT
MAY 9 PITTSBURGH, PA – CLUB CAFÉ
MAY 10 CHILLICOTHE, OH – MAJESTIC THEATRE
MAY 11 CINCINNATI, OH – MOTR PUB
MAY 14 CHARLOTTESVILLE, VA – THE SOUTHERN
MAY 15 NEW HAVEN, CT – BAR
MAY 16 NEW YORK, NY – MERCURY LOUNGE
MAY 18 RAM'S HEAD ON STAGE – ANNAPOLIS, MD
MAY 20 ASHEVILLE, NC – ISIS MUSIC HALL
JUN. 21-3 DOVER, DE – FIREFLY MUSIC FESTIVAL
Kopecky Family Band at ATO Records
Kopecky Family Band Website