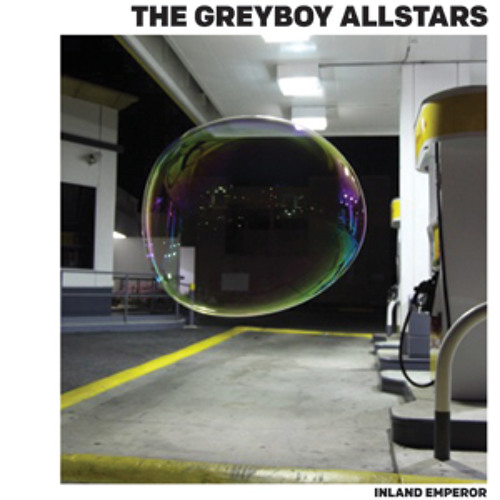 California jazz/funk veterans
The Greyboy Allstars
have released their fifth album,
Inland Emperor
. The band consists of original members Karl Denson, Robert Walter, Elgin Park and Chris Stillwell, plus Aaron Redfield. Denson plays the saxophone, and it really ends up being the centerpiece of a lot of this record, including the first track "Profundo Grosso" - a funk/jazz/rock track that makes me smile and think of the Zappa classic "Peaches en Regalia".
The second track, though, is centered around a very good falsetto vocal performance by John Bigham -"The Bitch Inside Me". But it's back to the sax for track three - "Multiplier", which could almost be a Steely Dan cut, except I don't recall any of their horn parts ever sounding like Denson's sax on this one.
Here's "Better Get A Jump On It" - a deep groove contrasted with some whimsical blips and pops and some almost robotic vocals:
There are vocal and instrumental tracks, and equal weight is given to both. "Old Crow" features terrific vocal harmonies and a groove that wouldn't be out of place on an old Crusaders record. "Bomb Pop" is a 6-plus minute instrumental where the rhythm section underpins horn and guitar excursions that nearly fly out of control, but somehow stay connected to the groove. Not surprisingly given that each band member has impressive credits of his own, there's variety in instrumentation, variety in composition and leads, and variety in song length - all of which contribute to make this album one that grows with each listen. Capping it all off is an interesting juxtaposition: the longest track on the album, the pensive, almost psychedelic soul of "Diminishing Blackness" followed by the rocking, rollicking "Trashtruck" - which makes a statement with guitars and keyboards over top of a heavy rhythm section, and backing some of Denson's wildest sax work.
The best thing about this album, to me, is that it consists of 11 very good songs - songs that are capable of standing on their own over the 40 minutes-plus of this record. One can imagine each of them serving as a taking-off point for plenty of jazz improvisation, and the Greyboy Allstars are certainly capable of that, but even if you don't have a chance or the inclination to see them live, you get a full dose with
Inland Emperor
.