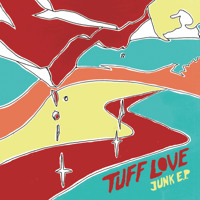 Today, we brink you junk -- and you will thank us. Specifically, we bring you the
Junk EP
from Glasgow trio
Tuff Love
. Kicking off with the standout "Sweet Discontent", which could be a C86 Popguns/Flatmates nugget except for the fact that this band loves putting the bass up in the mix (and I love the band for loving to put the bass up in the mix). Next up is the more garaged/grunged, but still jangling, "Flamingo", with echoes of Big Star or Teenage Fanclub. Track three is "Copper", which adds a dose of Pavement-style alt rock to the set.
Tuff Love
gives us their biggest muscle flex on "Poncho". The sweet "Penguin" closes the proceedings with a taste of the band's soft side, and leaving us wanting much more.
The easiest thing to write about the EP is that it is well executed garage pop. However, that really doesn't do it justice. The vocals transcend that genre, with well inflected lyrics bracket by timely oohhs and aahhs. However, perhaps most notable is the range. There are beefy guitar lines and stout rhythms, but there is plenty of summery shimmer to balance the noise. At times their music reminds me of the late Leeds outfit Manhattan Love Suicides, but Tuff Love has a more direct and accessible approach.
Tuff Love
are Julie Eisenstein (guitar), Suse Bear (bass) and Michael O'Hara (drums). The
Junk EP
is out now in vinyl and digital formats from Johnny Lynch's Lost Map Records.
Facebook
Soundcloud
Bandcamp
Twitter
Lost Map Records