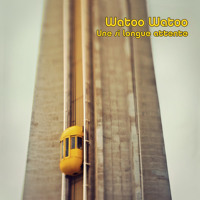 We at WYMA tirelessly cast our suave cosmopolitan eyes … um …. ears over the landscape looking for good and interesting music. We also have a soft spot for the cute and endearing. Where these lines intersect is at
Une Si Longue Attente
, the delightful springtime musical breeze from from married French couple Pascale and Michael Korchia (with help from some friends), performing as
Watoo Watoo
. With doses of synth pop, jangle pop, cabaret and twee, and echoes of Belle & Sebastian, Stereolab, Galaxie 500, Serge Gainsbourg, movie soundtracks and Francois Hardy, this is bright pop that will put a bounce in your step and, quite possibly, a bit of sex allure in your sigh.
Une Si Longue Attente
band's fourth full length album and, in my view, suggests that if the elevator car on the album cover represents their career, it is going up, not down.
Nine of the ten tracks are sung in French by the lovely Pascale, but I suspect that those of us who struggle with French won't mind a bit. While Pascale handles the cooing, Michael creates the music and plays most of the instruments. The quality of their connection and artistic pairing is evident in the result. The songs are cinematic, and you can imagine them as backdrop for scenes of happy couples. When you began reading you probably didn't know that you need this album for the sake of your mental health. That is understandable -- I didn't know I needed it until I started listening. But it is Saturday morning and I've listened to it two more times while writing this review, and I'm convinced that this is going to be a good day.
This pop gem was created in Bordeaux, France, but comes to us from Seattle's Jigsaw Records. You can stream the entire album at Jigsaw's Bandcamp page, which is linked below. The album is out now. In fact, it has been out since early this year, but I had assumed that the French culture ministry required aging for all French products before marketing -- or is that only for wine?
Facebook
Website
Jigsaw Records page for album
Bandcamp for album