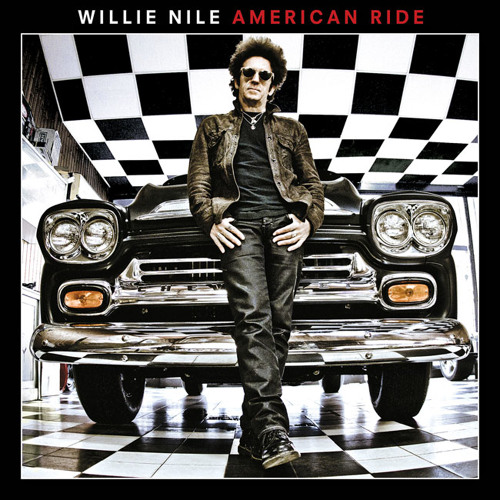 Roots, punk, folk and big city wall of sound flavor
American Ride
, the new album from veteran rocker Willie Nile. It's a terrific journey - Nile clearly intended it as such, and incorporated not only all kinds of American musical styles (and pretty clearly masters them), but chronicles plenty of traveling, too... while spending a good bit of the album in and around that quintessentially American venue, New York City.
This album would fit nicely in your collection among your Lou Reed, Springsteen, Faces and Dylan albums. No kidding, that's how much musical ground is covered on
American Ride
. Nile clearly has a good bit of hard-won wisdom to dispense and you may want to take notes. This is no wide-eyed kid - Nile has been an incisive and emotionally engaged songwriter for 35 years, and enjoys the admiration of artists from Springsteen to Reed to Pete Townshend and Lucinda Williams, to mention a few of the folks who have gone out of their way to recruit Nile for touring or to share their thoughts on his journey.
Check out the flow of the music and lyrics on the title track - here's a lyric video:
There are a couple of recurring themes - the "American ride" is the first and most prominent. It's borne out in the geographical name-checking of the title track, the returning to NYC as a recurring character (including Nile's nostalgic "Life on Bleecker Street" and a fiery, heartfelt cover of Jim Carroll Band's "People Who Died" that Nile dedicated to his recently-lost brother John), and the immigrant story "The Crossing". Another pronounced theme repeated throughout is a respect for God, and people who are doing God's work, and accompanying disgust with those who cloak themselves in God's mantle in order to claim power or just do evil. And perhaps that's also part of the American ride - a theme that goes back to protest songs and is echoed throughout songs like Dylan's "Masters of War" and "With God On Our Side".
In the hands of a lesser artist or songwriter, this variety of sounds and themes might be overdone or watered-down, but Nile certainly has the chops to carry it home. Whether he's featuring a full wall of sound as on "If I Ever See the Light" (on which Nile does a good job expressing the kind of "everyman's rage" that is found throughout Springsteen's ouevre) or a delicate acoustic ballad (the love song "She's Got My Heart") , his vocals remain the centerpoint, and are charming in the way Ronnie Lane's always were.
American Ride
features backup from Nile's live band — guitarist Matt Hogan, bassist Johnny Pisano, drummer Alex Alexander, and Nile on guitar and piano — as well as guitarist Steuart Smith and New York singer-songwriters James Maddock and Leslie Mendelson.
Out June 25 on
Loud and Proud Records
, is a triumphant return for an American original, to musical form, to the Big City and to the road.