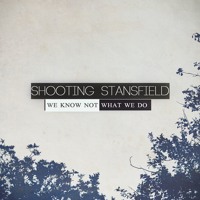 The sweet spot for Edinburgh's
Shooting Stansfield
is jangly, warm and dramatic folk rock. That, plus the inevitable Scottish accent, will bring comparisons to fellow Scots Frightened Rabbit. And while such comparisons are fair, I think it must be noted that the band need not stand in anyone's shadow. If life is fair (I know, hardly a sure thing) their new
We Know Not What We Do EP
will serve as their coming out party and bring them a wider base of fans.
At six songs and just over twenty minutes running time,
We Know Not What We Do EP
is a concise presentation of the band's skills. The four-piece creates melodically dense, layered tracks featuring arrangements that build from simple beginnings to a grand wall of sound. Here are two of the tracks. If you visit the band's website (link below) you can get a free download of "Greater or Lesser".
Shooting Stansfield
are Stewart Douglas (vocals/guitar), Stephen Whipp (lead guitar/backing vocals), Craig Robertson (bass/backing vocals), and David Steel (drums/percussion).
We Know Not What We Do EP
is out now. A full length album is planned.
Website
Facebook
Twitter ( @shootstansfield )