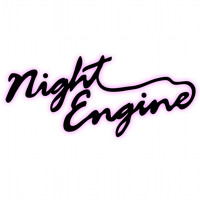 What is
Night Engine
? The simple answer is that it is a promising young UK band with a new upcoming single "Seventeen/Treat Me Like A Baby". The more complete answer is that this really is a band to follow. Their music has the intensity and grit. There is a bit of Bowie, a bit of Talking Heads, a bit of Josef K, and maybe some Fire Engines. Rock for the urban noir, then, with a bit of funk undertones to give it some swing.
The members of the band are
Phil (vocals & guitar),
Dom (keyboards & vocal),
Ed (bass & vocal), and
Lee (drums).
The single will be released on February 18, but you can download "Treat Me Like A Baby" free at this
link
right now.
Night Engine
will be touring the UK with Kaiser Chiefs in February and March.
This track was released in October, 2012 --
Facebook
Website
Twitter ( @Night_Engine )