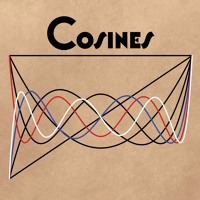 Cosines
are a guitar and synth pop band from London, named after Carole King's doo wop group from the '60s and making quite a name for themselves at festivals and shows this year. And based on their debut LP
Oscillations
, the buzz is well-deserved. The songs are very engaging, with affecting emotion in the (mostly female) vocals, hummable melodies, hooks, and a very adept feel for dynamic changes over the course of the songs. There are elements of the sweetness and fuzzy guitars of a straight indie pop group, but also clear currents of more forward-looking pop as well, as may be expected from a group that considers themselves 'math pop'. Thematically, the album charts the chaos of young relationships, and I think it is about as good a soundtrack for that subject as I've heard in a while. A few tracks below demonstrate the band's range and quality, but if you only have time for one, get lost in the wonder of "Our Ghosts".
Cosines
are Alice Hubley, Daniel Chapman, Simon Nelson, The Late Jonny Drums (yes, that's what it says), and Kajsa Tretow.
Oscillations
is out now via Fika Recordings.
Cosines - Commuter Love
from
Fika Recordings
on
Vimeo
.
Facebook
Soundcloud
Fika Recordings page for album