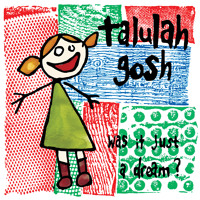 I sometimes tend to save posts about compilations for the holidays. It isn't really about the price, although sometimes that is a factor. It is that to my mind there is something festive about a collection of notable works by a favorite artist. So that brings us to
Was It Just A Dream?
, the complete collection of songs by Oxford, UK band
Talulah Gosh
. And by "complete" I mean all the tracks from every EP, every single, all of the radio sessions and even the demos. Yes, indeed! There are 29 tracks and it would have to satisfy any TG fan on your shopping list, because there isn't anything more
Talulah Gosh
is about as representative of the twee pop and C86 sub-genre of indie pop as a band can be. Proudly DIY, the band's music was characterized by a rush of sweet, girl group vocals and jangling guitars with a fast tempo and punk rhythm section. The band was formed in '86, apparently when Amelia Fletcher (vocals and guitar) and Elizabeth Price (vocals) met and discovered a mutual affection for Scots pop band The Pastels (coincidentally, the band's first recording contract was with Stephen Pastel's 53 & 3rd label). The remainder of the original line up was Mathew Fletcher (drums), Peter Momtchiloff (lead guitar), and Rob Pursey (bass). When Rob left the band, he was replaced by Chris Scott. Elizabeth departed in '87 and was replaced by Eithne Farry. The band split up in '88, but Amelia, Mathew, Peter and Rob reformed as Heavenly, which ran until '96 playing a similar, but tighter and more disciplined approach.
The band's sound and decidedly non-pop star approach to dress inspired both devotion and hostility. Curiously, they were more broadly accepted in the US, and were considered a major influence on the punk and Riot Grrrl scene spawned in Olympia and championed by Calvin Johnson's K Records. After spending a good bit of time with this compilation, I have concluded that
Talulah Gosh
's work bears up very well to the test of time. While old fans will rejoice at having new material in one place, new fans will realize that the music would plug in very well in certain corners of the current indie scene.
An interesting part of the Talulah Gosh story is the members' post music careers. Elizabeth Price won a Turner Prize in 2012 for her film "The Woolworth's Choir of 1979". Amelia Fletcher has served a chief economist and director of mergers at the Office of Fair Trading. Peter Momtchiloff is a senior editor for philosophy at Oxford University Press. And Eithne Farry is a literary critic.
The retrospective
Was It Just A Dream?
is available via Damaged Goods Records.
Damaged Goods Records