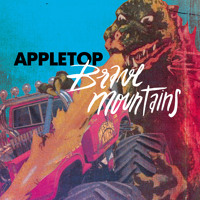 The sun is out, the temperatures are getting warmer and I think Spring is creeping in. So my musical appetite requires some sunny sounding power pop and southern influenced rock. Where would I find that? Well, at the moment, I'm finding it on
Brave Mountains
, the new LP from the French group
Appletop
. Yes, a French group on a Scottish label playing American-style alt rock with a bit of a country flavor. We are citizens of the world.
Channeling '80s and '90s British and American guitar rock, the riffs are chunky and jangling, the harmonies soaring -- this trio has their finger on the pulse of timelessly appealing indie rock. In fact, I would suggest that if you heard a few of these songs in isolation you might wonder whether you were listening to recently discovered unreleased tracks from Teenage Fanclub or Pavement. The set includes muscular rockers, anthems, and slow-burners.
Appletop
are Olivier Cancellieri, Pierre Cristofari and Nicolas Faou. They formed the band in 2008, and previously have released shorter records and an debut album. With this album, they demonstrate that the deserve worldwide exposure. Test out two of the great tracks below.
Brave Mountains
is out now via Armellodie Records.
Facebook
Website
Armellodie Records