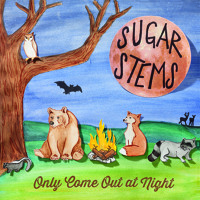 Summer BBQs can be dangerous times for music fans. Remember last year when Sally pouted until some manufactured pop was bouncing over the speakers? Luke wanted everyone to give his Slovenian emo music a chance. Cousin Hank insisted on time for his bootleg of the ACDC cover band from the wet T-shirt night at the local tavern, and Uncle George (no one quite remembers who he is related to -- how does that work anyway?) wanted real American music played by guys in cowboy hats and flannel shirts with no sleeves. No wonder you are dreading the weekend!
Never fear, we here at WYMA are here to help. May we suggest something that everyone might be able to agree on for the time it takes to chat a bit and eat your meal? How about power pop with a heaping helping of girl group, some garage grease and some bubblegum holding it all together -- what a great idea! And all this comes to you in the form of
Only Come Out at Night
, the new album from Milwaukee's
Sugar Stems
. There is humor, anger, and a lot in-between. On highlight track "The One" Betsy warns her date that she has no intention of being 'the one he is waiting for'; clearly no sitting around on a pedestal for this young lady. The pace is breakneck from start to finish, and the hooks come sharp and fast And since they are from Milwaukee, it might be a good excuse to break out the bratwurst.
Sugar Stems
are Betsy, Jon, Drew and Steph, with friend Andy Harris filling out the sound on the organ.
Only Come Out At Night
is released by Dirtnap Records. The band is touring now, with a few more dates in the west and then a couple in Wisconsin. And if they are half as good live as they are on record, they may be the most fun concert you'll attend this summer.
July 28 Oakland, CA - Night Light
July 29 Riverside, CA - Mission Tobacco Lounge
July 30 Los Angeles, CA - Redwood
July 31 San Diego, CA - Ken Club
August 1 Orange County, CA - House of Blues
August 2 Phoenix, AZ - Time Out Lounge
August 8 Appleton, WI - Mile of Music
August 9 Appleton, WI - Mile of Music
Website
Facebook
Twitter
Dirtnap Records