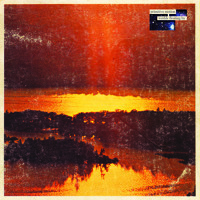 After several smaller releases on cassettes and CDs, Brisbane's
Primitive Motion
has released their first album,
Worlds Floating By
. And suffice it to say that Leighton Craig and Sandra Selig haven't compromised their vision to try and please a hypothetical mass audience. What we get is the duo's version of electronically oriented dream pop, with synths, machine drums, a seasoning of brass and wind instruments, and echo chamber vocals. The repetition in the rhythms will invoke a Krautrock reference or two, and not unfairly. They don't hurry their songs, as the running times tend towards the six minutes plus range, but I'd be very surprised if anyone minded in the least. The overall effect is psychedelic and otherworldly.
The album begins with the airy dream pop of "Terminal Language", which unspools for nearly seven minutes and vocals aren't introduced until the song is more than half over. The next track is the surging "Skyline", in which Sandra's voice soars over pulsing rhythms.
"The Hill" begins with stately keys over brittle machine-generated snare snaps. Then Sandra's wistful vocals twist the atmosphere back into a dreamy soundscape. Undemanding and appealing, t may be the loveliest song on an album of lovely songs.
Primitive Motion
returns to its idiosyncratic melding of noirish Krautrock and atmospheric soundscapes on "Home of the Lone Coast" - six minutes of head music
"Silver Frosted Light Force" and the closer, "Mortal Souls, take the head music a step deeper into the atmosphere, replacing the emphasis on rhythms with swirling electronics and wistful soundscapes. The penultimate track, "Colours", is a cinematic balance between rhythms and soaring, echoed vocals.
Primitive Motion - Colours
from
BSR
on
Vimeo
.
Worlds Floating By
is blissful, playful and inventive, and I recommend it. It is out now via Bedroom Suck Records.
Facebook
Bedroomsuck Records