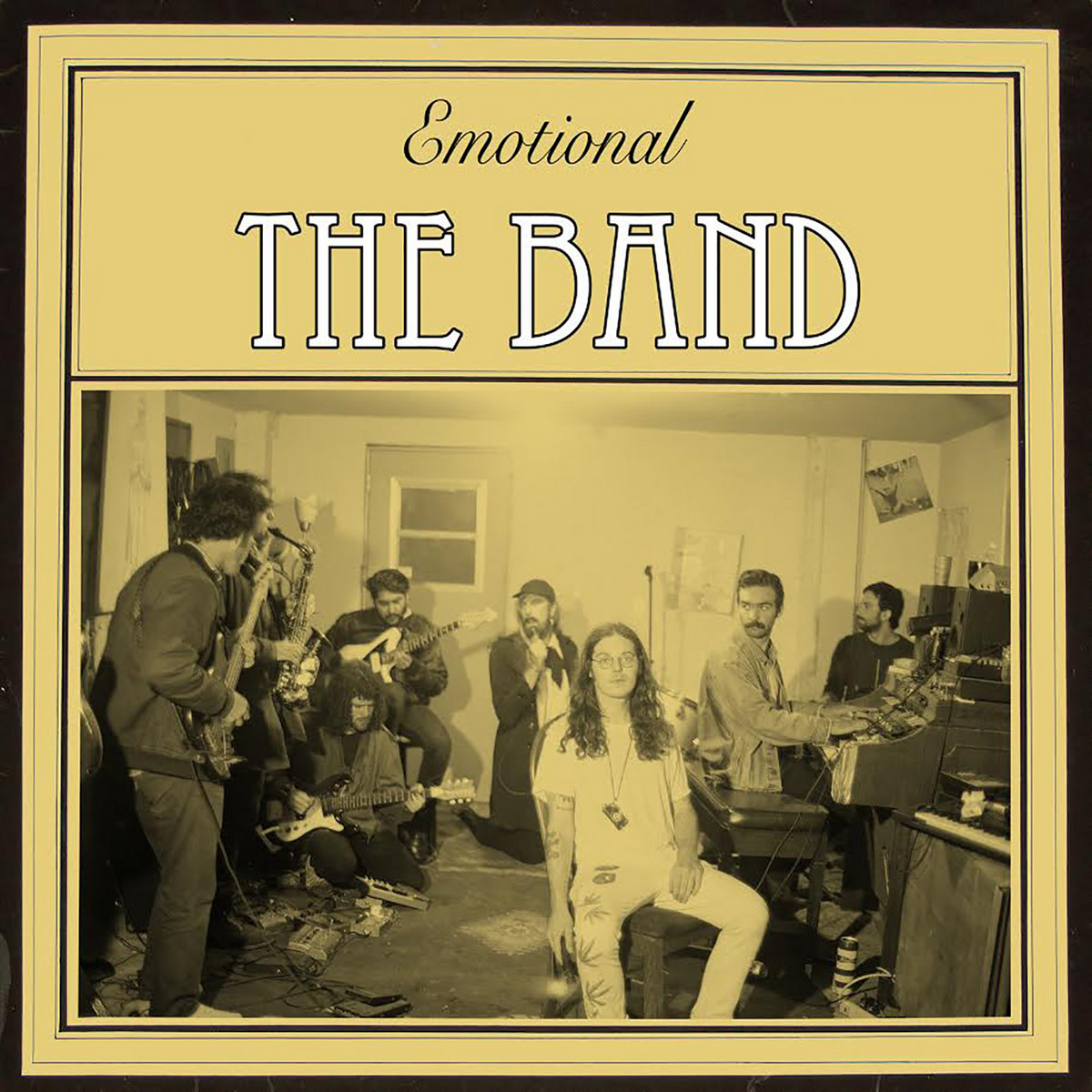 Brian Wakefield is
Emotional
. Not that he is weepy or has anger management issues. He just is, well,
Emotional
. I think that when Brian originally became
Emotional
, the project was just Brian and a crowded bedroom as a side project to Melted Toys and his other side projects. But over time the project seems to have become his main focus. And that causes happiness here at WYMA, because Brian's brand on psychedelic garage pop is a particular favorite. For his new album, his second full-length, he seems to have gathered a band. So, of course, the album is named
The Band
. After all, you have to take care of the people who take care of you.
It is rare to hear an album that suggests influences as varied as Syd Barrett, Big Star, Gram Parsons. And even rarer, I suspect, would be an album that shares that influences by nevertheless presents a coherent style. But
The Band
is such an album, presenting nine varied songs of smeared psychedelic pop that delights from open to close. We've provided a few tracks below, but we urge you to hit the Bandcamp link and listen to the entire album.
The Band
is released on Brian's own Long Live Death Records, and
Emotional
are in the midst of a US tour. We've provided dates and venues below (although we personally believe that if you don't come to Seattle, you aren't trying very hard). In creating the album, Wakefield received contributions from Alex Brettin, Danny James, Sarah Bethe Nelson, Simi Sohota, Emmet Moskowitz, Geoff Morris, Ole Haarstad and Joel Robinow.
Facebook
Bandcamp for The Band
Death Records' page for The Band
EMOTIONAL on TOUR
Mar. 21 — Nashville, TN @ Blackbird Tattoo*$
Mar. 22 — Lexington, KY @ Best Friend Bar *
Mar. 23 — Washington, DC @ Smash! Records *
Mar. 24 — Boston, MA @ Middle East Upstairs *$
Mar. 25 — New York, NY @ Baby's All Right *$
Mar. 26 — Burlington, VT @ TBD *
Mar. 27 — New York, NY @ Berlin ^#
Mar. 28 — Philadelphia, PA @ Kung Fu Upstairs ^
Mar. 29 — Cleveland, OH @ Happy Dog *
Mar. 30 — Indianapolis, IN @ SST *
Mar. 31 — Milwaukee, WI @ Company Brewing *
Apr. 1 — Chicago, IL @ Cole's Bar *
Apr. 2 — Minneapolis, MN @ TBD *
Apr. 3 — Kansas City, MO @ Blind Tiger *
Apr. 4 — Denver, CO @ Hi Dive*
Apr. 5 — Salt Lake City, UT @ Kilby Court *
Apr. 6 — Las Vegas, NV @ The Griffin *
Apr. 7 — Joshua Tree
* = w/ The Memories
% = w/ Death Valley Girls, Death Hymn No. 9
$ = w/ Colleen Green
# = w/ Cosmonauts