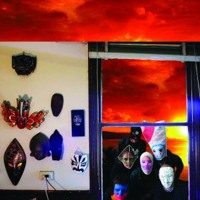 Racism
, from Melbourne's
The UV Race
, arrived just in time to be considered for a highly coveted spot in my year end lists of favorite albums for the year. And with pop songs twisted through varying degrees of punk, post-punk, new wave and glam, and a not inconsiderable dose of near insanity, it is a worthy contender (What? You expected The Bieber to beat them out on my list?). Diverse both thematically and musically, its laudable constants are energy, entertainment and quality songcraft.
Here is "Unknown Pleasures", one of the tracks I consider a standout --
"Life Park" is another absolute winner of a song, but the album is full of the them. "Be Your Self", the opening track, veers to the prog side on the band's well crafted admonishment to accept one's own identity --
Some songs are slinky vamps, some feature spoken word segments, and all of them feature the band's depictions of memorable characters or not-completely-suburban observations of modern life. Well, that and ferocious percussion. And if it all is embellished by handclaps, horns, or an angry guitar line, so much the better.
I would be remiss if I didn't give you a taste of
UV Race
's punkier side --
UV Race
lists its members as Marcus, Georgia, Ally-Pally, Sea-Snake, Emily, Daniel, Moses and Alexandra.
And let's end with the twisted triumph of "Gypsy King", featuring horns and the line "ain't life a pig".
Racism
is available through Fuse in Australia and In the Red Records in the US.
Facebook
Blog
In The Red Records
Big Cartel for UV Race