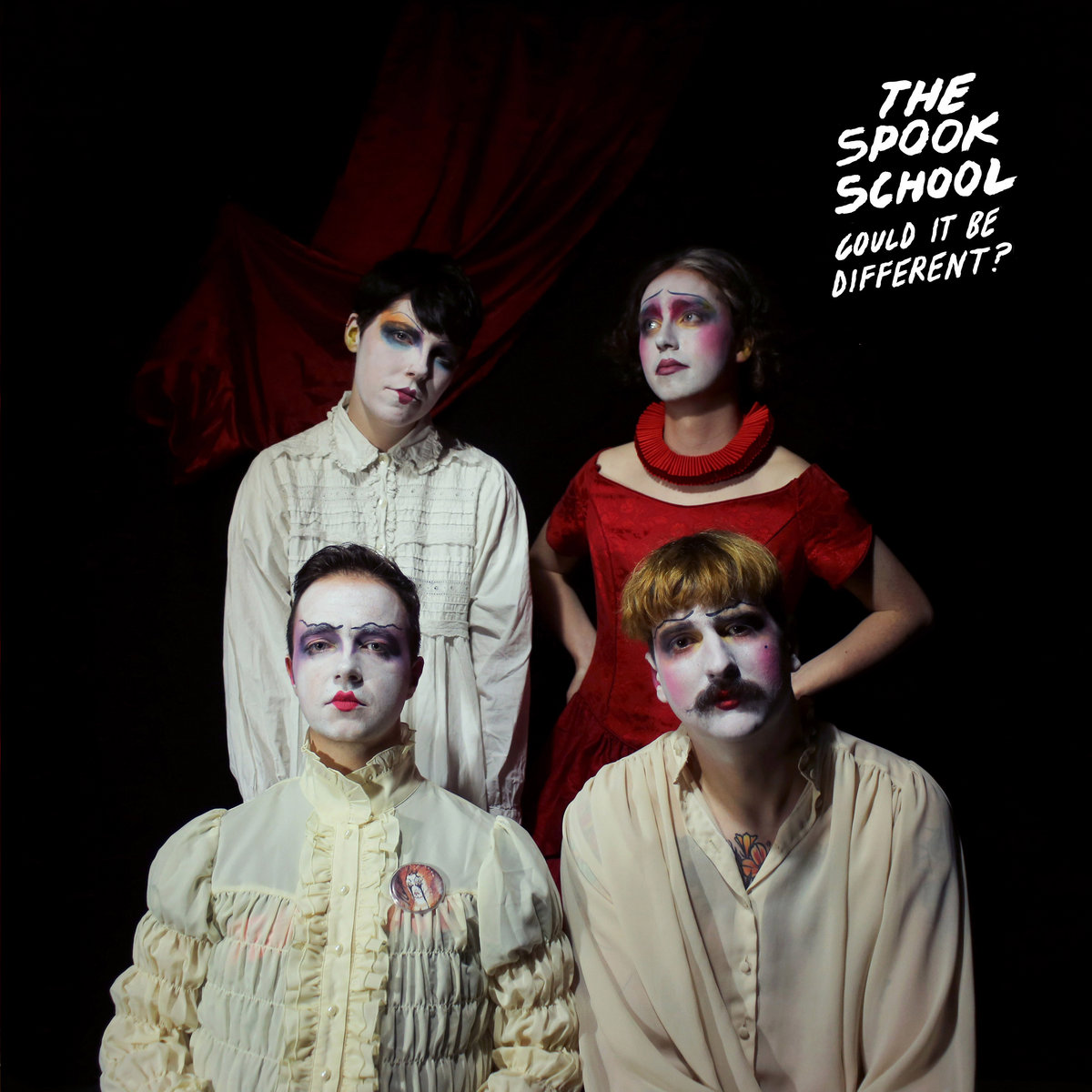 We first became aware of
The Spook School
when we stumbled on to a few of their early demos and featured them on the blog. We've followed them since, and have been impressed with their growth as a band. We have been even more impressed by their steadfast devotion to their beliefs, including gender positivity and trans rights. This is a good band comprised of good people.
The Spook School
can be defiant, political and angry, but they express themselves in stories to which their listener can relate. And the humanity is at the surface, addressing identity questions, stereotyping, romantic issues and just the general confusion in trying to become and adult in your own skin. At the end of the day, it is triumphant music, because these guys are survivors.
The Spook School
are Nye Todd, Adam Todd, Anna Cory, and Niall McCamley.
Could It Be Different?
is out now via Alcopop! Records in UK and Slumberland Records in North America. The band is beginning a North American tour this week, that extends into early March. See below for dates and venues.
Website
Facebook
Twitter
Bandcamp for Could It Be Different?
(Slumberland)
Slumberland Records
Bandcamp for Could It Be Different?
(Alcopop)
Alcopop! Records
01/29 Buffalo, NY @ Mohawk Place # ^
01/30 Toronto, ON @ The Garrison # ^
01/31 Detroit, MI @ Marble Bar # ^
02/01 Chicago, IL @ Bottom Lounge # &
02/02 Madison, WI @ University of Wisconsin # &
02/03 Minneapolis, MN @ University of Minnesota # &
02/05 Lawrence, KS @ White Schoolhouse #
02/06 Omaha, NE @ Reverb Lounge & #
02/07 Denver, CO @ Lost Lake Lounge #
02/08 Salt Lake City, UT @ Kilby Court #
02/09 Boise, ID @ Neurolux # &
02/10 Vancouver, BC @ The Cobalt # &
02/11 Seattle, WA @ Chop Suey #
02/12 Portland, OR @ Aladdin Theater #
02/14 San Francisco, CA @ Rickshaw Stop #
02/15 Santa Cruz, CA @ The Catalyst # &
02/16 Los Angeles, CA @ Lodge Room #
02/17 San Diego, CA @ You Are Going To Hate This Fest 3 #
02/19 Tucson, AZ @ Club Congress # &
02/21 Austin, TX @ Sidewinder # &
02/22 Dallas, TX @ Three Links # &
02/23 New Orleans, LA @ Hi Ho Lounge # &
02/24 Atlanta, GA @ The Masquerade # &
02/25 Asheville, NC @ The Mothlight # &
02/26 Charlotte, NC @ Neighborhood Theatre # &
02/27 Carrboro, NC @ Cat's Cradle # &
02/28 Washington, DC @ Rock & Roll Hotel # &
03/01 Brooklyn, NY @ Elsewhere # &
03/02 Boston, MA @ Brighton Music Hall # &
03/03 Philadelphia, PA @ First Unitarian Church # &