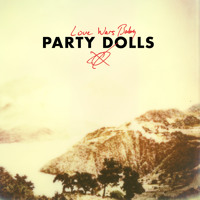 Look at this record as a worthy Valentine's Day present from This Is American Music.
The Party Dolls
are an ad hoc collection of members of The District Attorneys (frontman Drew Beskin, Frank Keith IV, and Walker Beard), Tedo Stone, and Crooked Fingers (Jeremy Wheatley), with some contributions from other friends. The band was born a year ago in Athens, Georgia when the other members of The District Attorneys couldn't make the show and Beskin invited Stone and Wheatly to join in. They learned some songs Beskin had been inspired to write in the aftermath of a bad romantic breakup. Beskin believed that the songs wouldn't fit the sound of The District Attorneys, but would be right for this assemblage. The result, one year later, is
Love Wars Baby
.
The sound includes the fuzz, jangle and southern rock elements that you would expect, as well as some sweet hooks and harmonies to accompany the pain and heartache. There are jaunty songs such as "Kindly Leave", ballads like "Vampire", the heartbreaking "Firecracker", and the barroom sing-a-long of "Sweetheart Moon". And the performances are so tight that you will dismiss any thought that the band is a side project. This album has my high recommendation. You may note that two of the songs below are available to download, but that only gets you a small part of the album. Find it at the label site, find it at Bandcamp, find it at digital purveyors (you know who they are). Just find it.
Facebook
Bandcamp
This Is American Music
Twitter