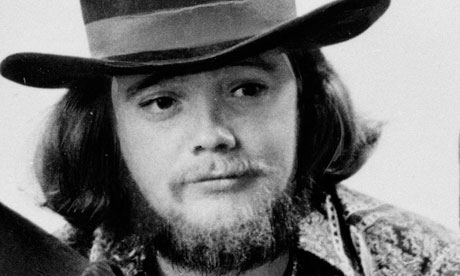 One of America's greatest bass players died in his sleep this morning following a show in Tokyo. Donald "Duck" Dunn, a Memphis native, became a principal architect of the Memphis soul sound and played on songs that form the soundtrack for multiple generations - Sam and Dave's "Hold On I'm Coming", Otis Redding's "Respect", Eddie Floyd's "Knock on Wood,", and Booker T and the MG's "Green Onions", to name just a few.
In addition to being a member of Booker T and the MG's from 1964 on, Dunn was the house bassist for Stax Records, and later a top sessions man in Los Angeles. Over his career, Dunn was enlisted to back a virtual who's who of popular music, including Bob Dylan, Neil Young, Eric Clapton, Tom Petty, Creedence Clearwater Revival, Levon Helm and many many more.
Just listen to this bass line, and see the young Donald "Duck" Dunn on right side of the studio set:
Dunn played himself in the
Blues Brothers
movie (1980), and here his bass line saved Jake and Elwood's lives:
Here's a terrific Donald "Duck" Dunn story, recounted to me this morning by WYMA founder/CEO/Pope John Hyland:
In the early 1980's, Dunn played with Eric Clapton on the Behind the Sun album. Clapton was asked about working with Duck and told this story: When the crew was packing equipment, Duck grabbed his bass and said "This stays with me." Clapton noted it was old and weathered, and gently needled him: "Have you just got the one, Duck?"
Deadpan reply: "Had two. One went down with Otis."
Dunn's longtime musical partner and boyhood friend, Steve Cropper, guitarist for Booker T and the MGs, had this to say:

"Today I lost my best friend, and the world has lost the best guy and bass player to ever live."
The Soul Corner and all of us at WYMA send a huge thank you to Donald "Duck" Dunn for a lifetime of incomparable music.