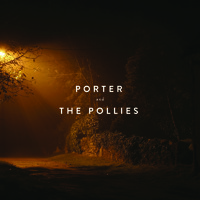 What tends to happen in your neighborhood when various folks get together for a little support during times of healing, emotional repair, recovery or intense and turbulent reflection? Hugs? Pot luck dinners? Guest speakers? Hikes in the wilderness? How about a nice expressive quilt? Fortunately for us music fans, when Porter (aka Chris Porter) of Back Row Baptists and Some Dark Holler travels back from Austin to Alabama for a bit of mending time and joins up with the Pollies (previous review
here
), who reportedly also were in need of some propping up, the result is the distinctly more useful six-track
Porter and The Pollies
. (apparently, the name Divorce Camp was considered and rejected). And being the kind, supportive friends that they are, Atlanta's This Is American Music agreed to release the pain and catharsis for everyone to share.
What's on offer? Ballads, rockers, blues rock, boot scooting and other delicious stuff, all with a proud country bent and a gruff and wounded southern accent. The EP was recorded live with all the edges exposed, all the attitude and, at times, spite aired out, as is appropriate for a record with this genesis. As Porter said, "
We made it sad, and angry, and drunk."
The opening and closing track follow the slower paced, reflective path, with more crunch and pace sandwiched between. You can stream the entire EP at the Bandcamp link below, but we're providing one of each for your evaluation.
The combined players are Chris Porter (guitar/vocals), Jay Burgess (guitar/vocals/producer), Chris James (bass), Reed Watson (drums), Daniel Stoddard (steel/keys/guitar/vocals), and Helen Gassenheimer (fiddle/vocals on "Rest These Bones").
And I feel compelled to say that we wish Porter and The Pollies well. More broadly, we don't wish any bad luck on anyone. But
if
it happens, we hope the talented folks take up an instrument and tell us about it.
Bandcamp for album
Facebook for Chris Porter/Some Dark Holler
Facebook for The Pollies
This Is American Music