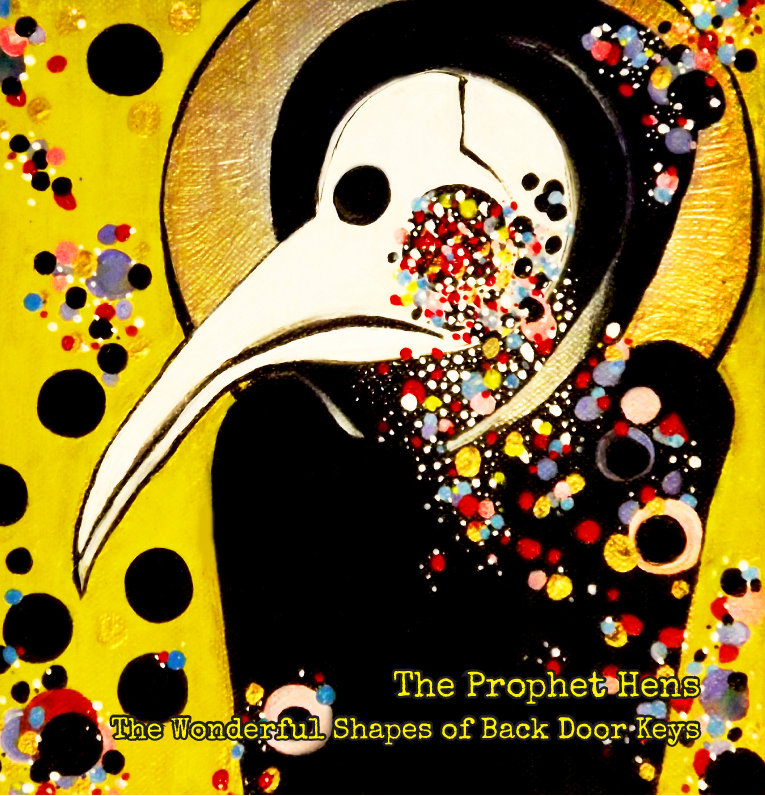 I loved
Popular People Do Popular People
, the debut album from Dunedin's
The Prophet Hens
, so much that I expect I would be extolling the virtues of their follow-up even if it duplicated its predecessor. Happily, however, the band's talent and ambition spare me that embarrassment, as
The Wonderful Shapes of Back Door Keys
takes all that was good before and builds on it like a visual artist taking his line drawings and turning them into a full oil painting. The hooks and jangle over a insistent and sturdy rhythm section remain. But the vocals from Bray and Esplin are more confident and expressive, and their interplay is among the highlights of an album of highlights. Esplin's Casio keys are more prominent, alternating between melancholy shading and a circus-like adrenaline jolt. Thematically, the scope is broader, with bassist Cederman adding his songwriting contributions to Bray's. Stylistically, the kinship to other Dunedin bands is evident to listeners aware of the band's hometown. But listeners unaware of such details could be forgiven suggesting hometowns such as London or Glasgow, with a nod to The Feelies on the side.
After multiple listens, I cannot identify a song that stands out from the others, but that is true only because the songs all have such adeptly layered emotions and elements, such perfectly blended melancholy and hope, that each listen reveals new joy. At various points my favorite song has been "Drunk In A Park", "Basically", "Only One", "Songman", and "Popular People". I'll listen again tonight and may well find a new candidate ("I Might Not Be Right" is trending heavily). The overall feel of the album is uplifting, to no small degree owing to pace of the tracks and the rich detail in the arrangements. We don't want to put scandalous notions in the heads of indie guitar pop fans, but you could even dance to this album.
The Wonderful Shapes of Back Door Keys
is released by Dunedin's Fishrider Records, but for fans in the UK/Europe it is jointly distributed by Occultation Recordings. North American fans can buy physical copies from Jigsaw Records and Midheaven soon, and if you can't wait, order from Fishrider and have it shipped. You can stream the entire album at the Bandcamp link at the bottom of this post.
The Prophet Hens
are Karl Bray (guitar/vocals), Penelope Esplin (keys/vocals), Robin Cederman (bass), and Ben Morton (drums).
Facebook
Soundcloud
Bandcamp for The Wonderful Shapes Of Back Door Keys
Fishrider Records
Occultation Recordings
Jigsaw Records
Midheaven